YOUR CART IS EMPTY
Taxes and shipping calculated at checkout
perfume family
GIFT IDEAS FOR
YOUR LOVED ONES
A perfumed gift is a special and meaningful way to mark any occasion and is a sure way to bring a little scented magic to your loved ones. With a range of perfume families to explore that evoke a myriad of emotions and memories, Clive Christian Perfume offer luxurious scented gifts that will continue to brighten any day. Explore some of Clive Christians classic and timeless perfumes that make a delightful gift for your loved ones.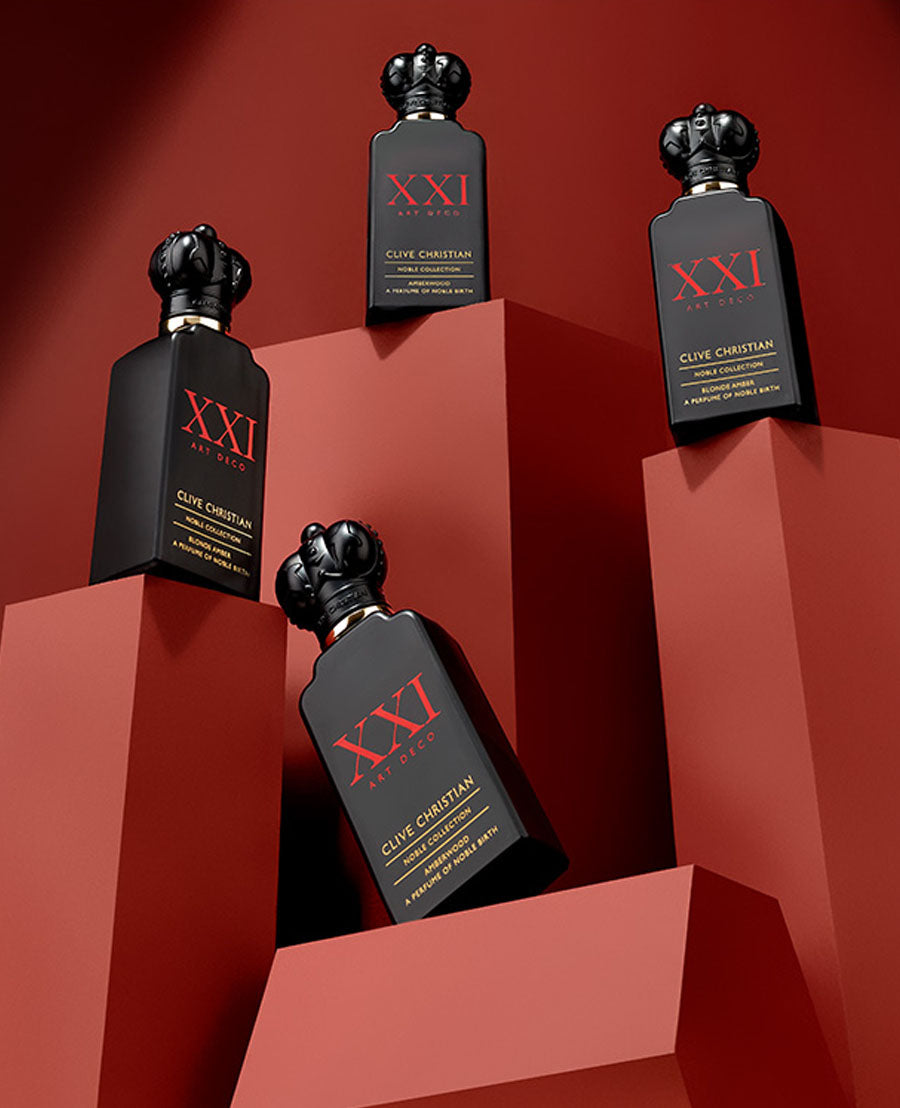 HOW TO FIND THE BEST GIFT FOR YOUR LOVED ONE
Finding the perfect luxury perfume to gift your loved ones can be a challenging prospect as it is an incredibly personal and emotional gift, linked intrinsically to our personalities.

It is important to understand who you are gifting to and what the occasion may be – if they are heading off to a tropical climate you may want to opt for a bright citrus perfume or if gifting for a decadent celebration, rich ambers and chypres make for an everlasting aroma.
There is nothing more delightful that receiving a luxurious perfume from someone you hold close to you heart as it creates an everlasting scented memory that can be cherished for years to come.
At Clive Christian we have something for everyone and with a high perfume concentration and a vast variety of decadent ingredients creating a complex blend, gifting perfume has never been more luxurious.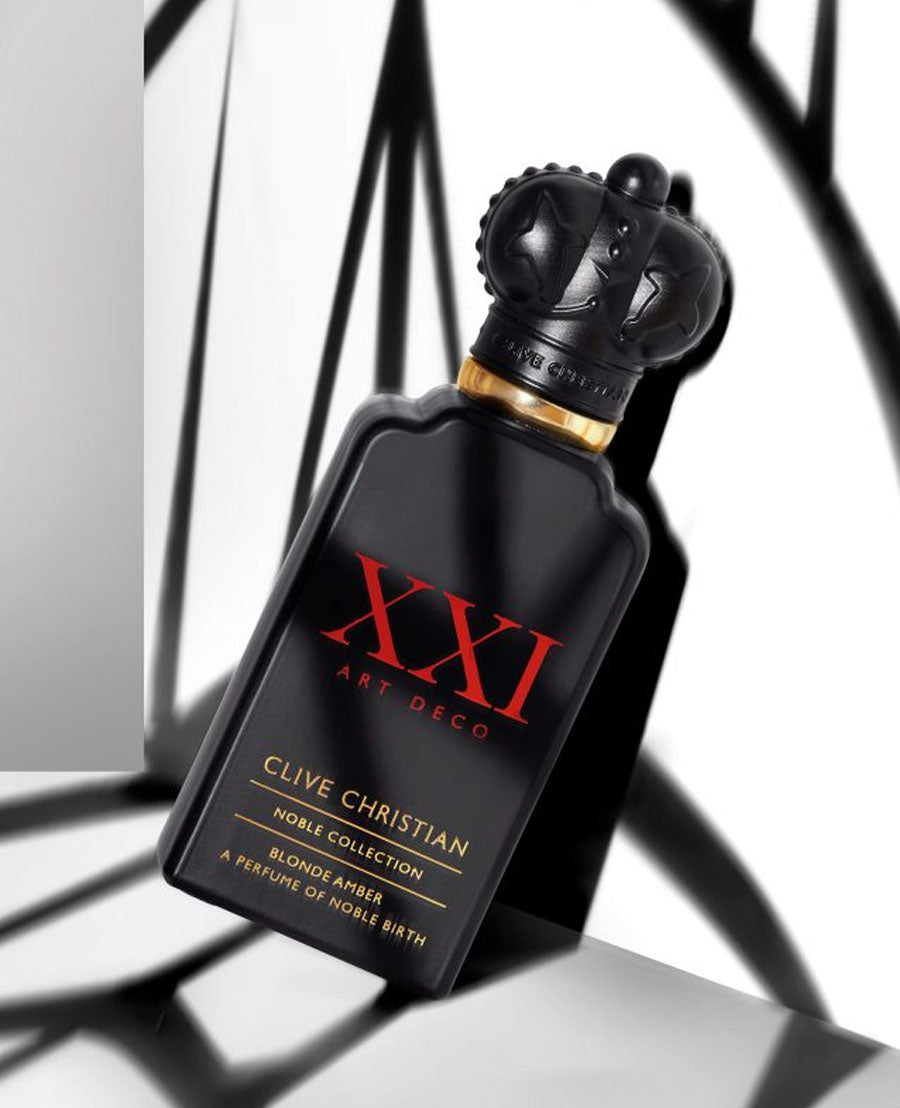 ART DECO BLONDE AMBER
New to the Noble collection for Spring 2022, Blonde Amber is a riot of flourishing ambers warmed with aromatic and smoky blonde tobacco.
Sparkling pink pepper and bitter oranges mingle with a heart of tuberose and a base of sumptuous tonka for an effervescent aroma that lingers on the skin.
Delightfully energetic with a warm charisma, Blonde Amber has a transformative power to whisk your loved ones back to the decadent Art Deco era where celebrations roar into the night. A perfect perfumed gift for those that love to bring a sense of opulence to the everyday.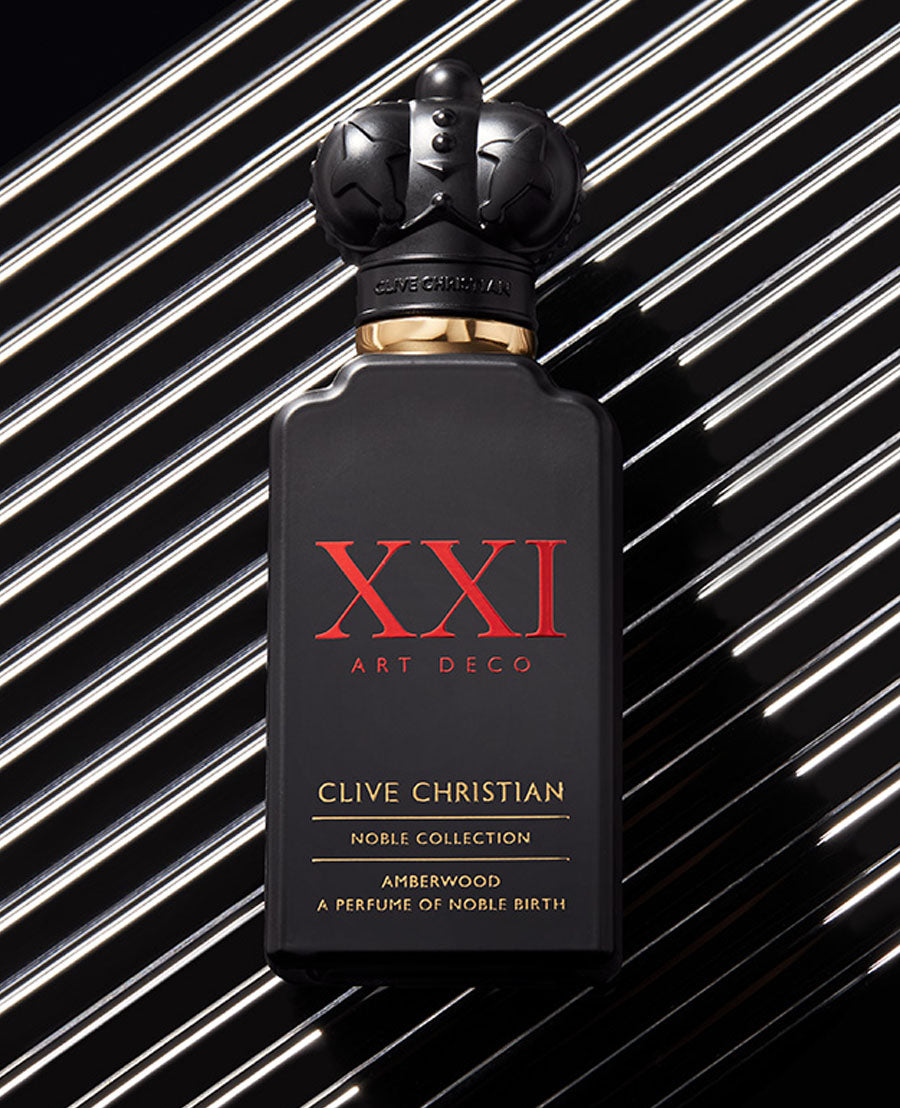 ART DECO AMBERWOOD
Joining its counterpart Blonde Amber as part of the new Art Deco XXI pair, Amberwood celebrates a smooth amber mixed with rich woody notes and sparkling bergamot.

This modern take on a traditional amber perfume is captured in a 25% perfume concentration with refreshing top notes of bergamot and angelica seed to give an uplifting aromatic twist with a subtle sweetness.
This versatile perfume captures the fluidity of the Art Deco era with a timberwood accord that adds an undeniable sense of joy for a refreshing finish.
A touch of oudh lingers in the base adding a complex depth that makes it a perfect gift for those that love a complicated aroma that keeps unfolding.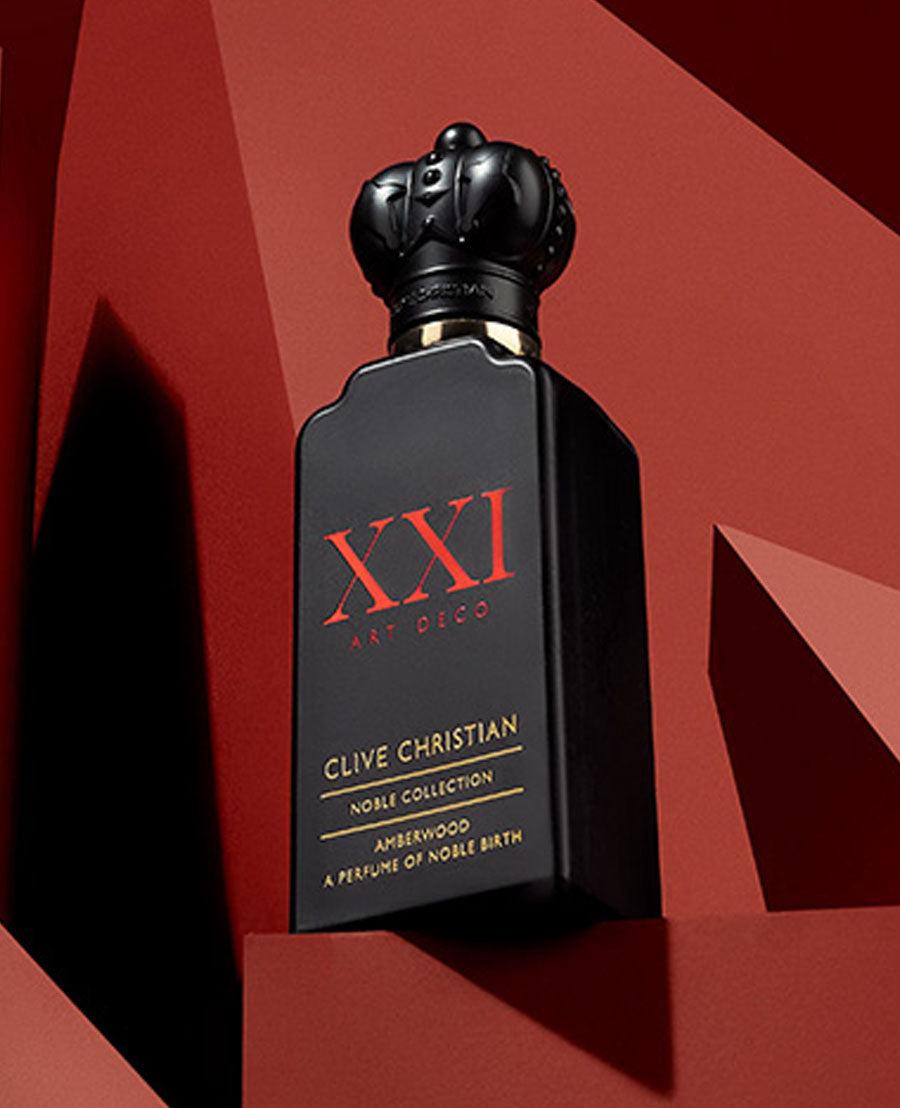 NO.1 MASCULINE AND FEMININE

If you are searching for a gift to give to someone truly special, you may want to go for something that is the epitome of luxury and elegance that will stand the test of time. Our feminine and masculine No.1 pair embody the essence of a Clive Christian Perfume by using the finest of ingredients and capturing the art of craftsmanship.
No.1 Feminine is a soft floral with flourishes of fruity mirabelle plum, white peach and bergamot in the top notes whilst sensual jasmine, carnation and rose mingle with musk's and exotic Madagascan vanilla to create a rare and exotic finish.

Reminiscent of classic floral perfumes, no expense has been spared in the creation of this aroma, making it a magical gifting moment to cherish the No.1 people in your life.
Much like its counterpart No.1 Masculine is Clive Christian's magnum opus with a masterful blend of majestic woody ambers, sparkling lime and tonka bean.

An impeccably smooth 50 year old aged sandalwood is the signature flourish in this energetic perfume that binds with exotic florals and spices – a perfume truly worthy of its name.
Whether you are gifting for a extraordinary individual or perhaps a couple who radiate love and elegance, the No.1 pair of perfumes are a delightful gift for your loved ones and just as special as they are.
CRAB APPLE BLOSSOM

Sweet, refreshing and aquatically aromatic, Crab Apple Blossom is a shining red jewel in the Clive Christian Perfume collection and with its rich colour this bottle is sure to capture the attention of someone special.
This perfume has been reimagined from the Crown Perfumery Company's archive, bringing to life a piece of perfumed history that was first created in 1886.

Inspired by the blossoming crab apple tree that grew outside the founder's home in Kensington, this perfume transports the wearer to balmy spring days filled with brightness and tantalising aromas.

Capturing the spring flower of Crab Apple Blossom and marine bergamot in the top it unravels to reveal a fruity floral character before settling into a base of creamy sandalwood and aromatic driftwood.

Crab Apple Blossom perfume makes a delightful gift for those who prefer lighter citrus aromas with an unparalleled complexity and richness underneath which is distinctively Clive Christian.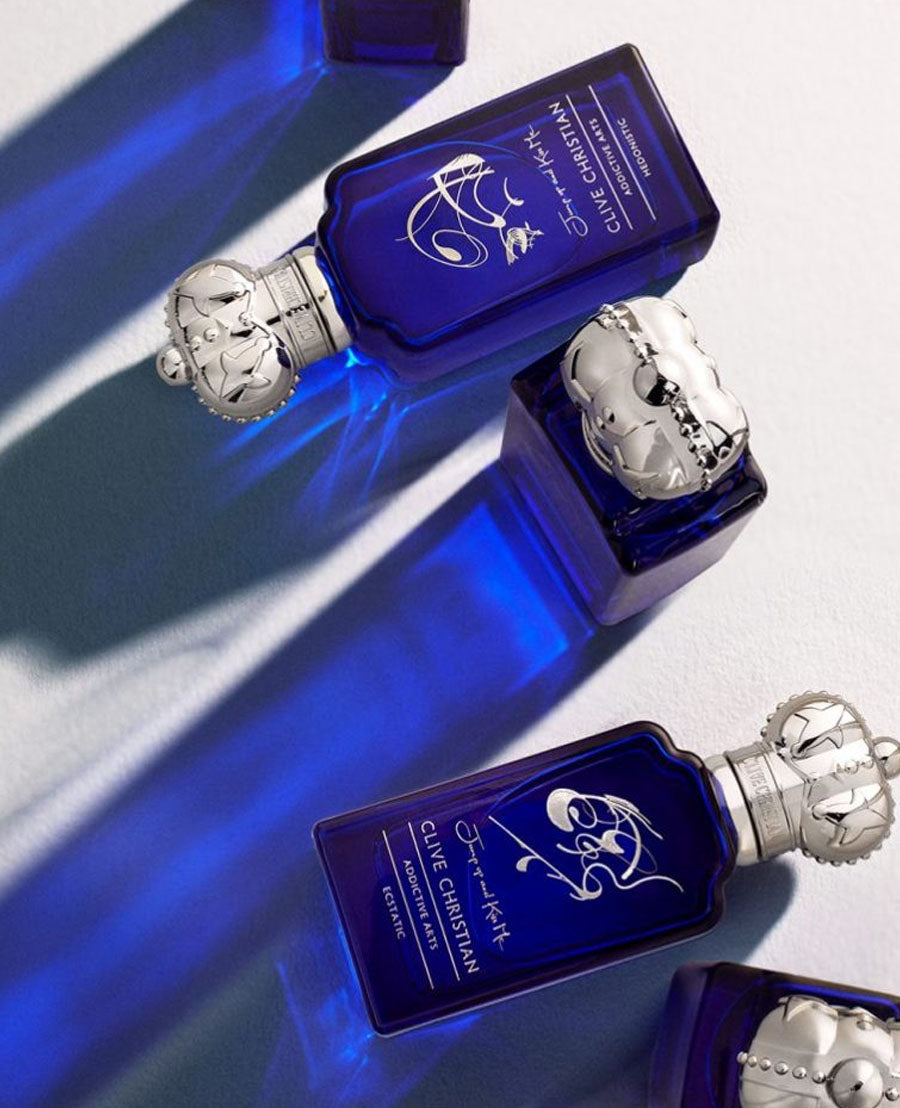 JUMP UP AND KISS ME ECSTATIC
When gifting a perfume to your loved ones it may be that you need something a little unique that pushes the boundaries of perfumery to capture essence of their bold character.

Jump Up and Kiss Me Ecstatic from the Addictive Arts collection is a sultry and intoxicating blend with a 25% perfume concentration that captures the white floral of tuberose, often referred to as 'The Fragrance of the Night".

Top notes of rose enveloped in orange flower mingle with creamy sandalwood, warm amber and tonka bean for an ecstatic and indulgent blend.
This perfume harnesses pioneering perfume techniques, using headspace technology to capture molecules through a process unique to the perfume house, making it a one-of-a-kind perfume -what better gift is there to give someone truly special and unique?

Discover Clive Christian's full collection of perfumes to explore a world filled with scented gifts, thoughtfully crafted with the finest ingredients and expertise to ensure you always gift something special to your loved ones.