YOUR CART IS EMPTY
Taxes and shipping calculated at checkout
perfume family
INTRODUCING NEW BLONDE
AMBER & AMBERWOOD
TO THE NOBLE COLLECTION
Joining the Noble Collection this spring, Clive Christian are proud to introduce two new perfumes to take the wearer on a journey of epic proportions, exploring the decadence of the Art Deco era.

Bold and energetic in style, the Art Deco era is symbolic of a sparkling decadence which has been captured in this brilliant perfume pair.

Inspired by the precious perfumer's ingredient- amber, these perfumes celebrate one of Art Deco's most precious materials and colours.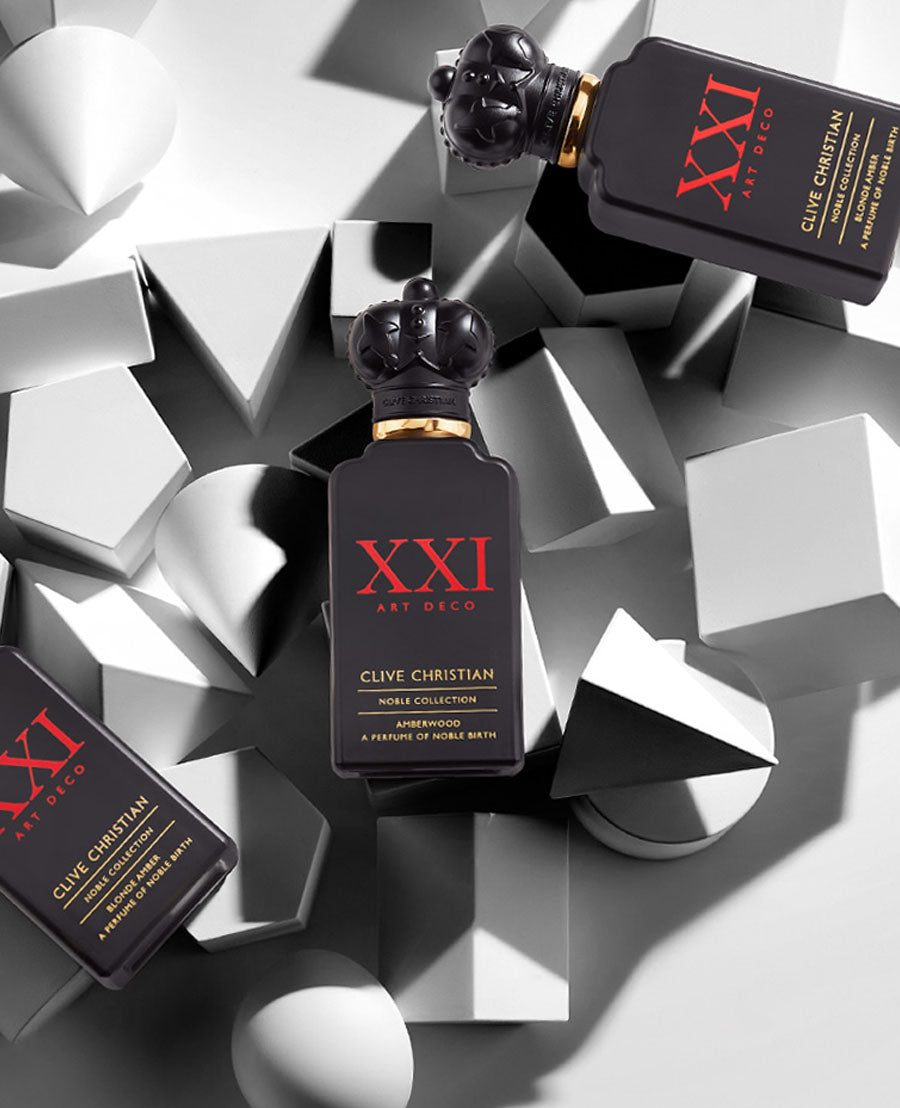 INSPIRED BY THE ART DECO AND ROARING 20S
From the beading of a flapper dress to the tints of the décor, amber was both a celebrated colour and material throughout the roaring 20's.

The Art Deco era captures a design style from the 1920's that was reflected in furniture, decorative arts and architecture and is renowned for its geometric details and opulent finishes. Emerging just before the First World War in Paris, Art Deco (short for 'Arts Decoratifs') represented modernism turned into fashion with the intention being to create a sleek elegance that symbolized wealth and sophistication.
As the roaring 20's began to take off, celebrations commenced, and spirits brightened which saw dazzling materials and opulence adorn every surface and society flourished into a vibrant display of colour. Confidence and empowerment signalled change as economic depressions faded and a newly awakened thirst for life began: urban cities grew larger than imagined and technology advanced creating a new and exciting world to celebrate.

Materials such as chrome and stainless steel epitomise the trend for greater progress, wrapped in a joyful colour palette. Decorative embellishments show inspiration from ancient cultures, exoticism and folk art with a modern twist, using a combination of precious, luxurious and high-tech materials.
These perfumes bring to life the energy, grandeur and artistry of the era through this precious jewel like ingredient.

Celebrating the opulence and ideology prominent in this era, the Noble Collection captures the ingredients and style of the time to perfectly shape each perfume's scent.

With a signature perfume oil inclusion of 25% and outstanding complexity of over 140 of the finest ingredients these perfumes promise magic and allure in equal measure.
BLONDE AMBER
A warm amber, spiced with aromatic and smoky blonde tobacco tells the story of Art Deco decadence.

Top notes of bitter orange, sparkling baies rose and rum create a delectable opening. Bitter orange is a favourite note found in chypres such as Blonde Amber and colognes as it lifts fragrant florals with an energising sweep of freshness.
A riot of flourishing florals from tuberose, jasmine and Osmanthus melt into dried fruits and saffron for a delicious heart.

Joining the melee of fine ingredients in the base are vetiver, incense, leathery labdanum and the praline richness of tonka – historically soaked in rum to create the precious crystals of coumarin that give the distinct flavour to this gourmande note.

This 25% perfume contains 219 of the finest perfume ingredients creating an indulgent blend.
Blonde Amber explores a smoky, spicey and floral style of amber with the unique Blonde Tobacco giving this perfume a spirited edge.

Sweet, sensual and smokey with an aromatic twist – this note is the perfect accompaniment to the rich florals and deep amber which adorn this perfume.

An incredibly versatile ingredient in the hands of the perfumer that offers unending twists and turns to this scent- the perfect note to give an ode to the bold heroines of the Art Deco era.

This perfume was inspired by the infamous paintings of Tamara de Lempicka such as "The young lady with gloves"- angular yet fluid with bold colours and expressions- much like this talented perfume.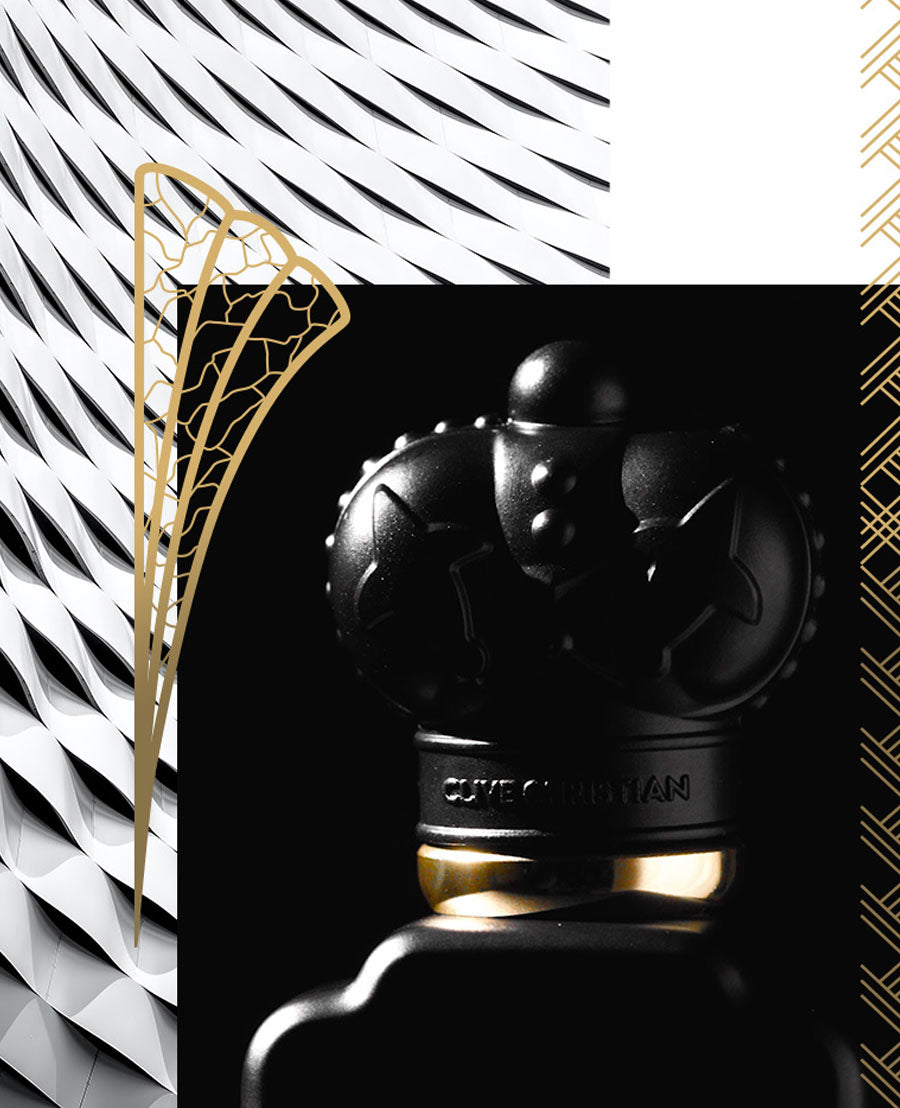 AMBERWOOD
A smooth and almost translucent amber brings to life a modern take on the amber style with a sophisticated nod to the past.

A vibrant and refreshing top from Calabrian bergamot, pink pepper and angelica seed which imparts both an aromatic note as well as musky soft green woods with just a hint of sweetness. Angelica is also a powerful fixative, ensuring the ingredients work better together and helping boost this sublime scent.

A strand of sage runs from the heart to the base using three different extractions of this herb, sacred to the romans.
With fresh green tones this ingredient gives a sweet balsamic and yet aromatic touch for comforting freshness. Silvery sage is enhanced with rich and opulent woods and whispering musks.

A hint of tonka, oudh and tobacco in the base and heart adds warmth and poise. This 25% perfume contains 145 of the finest perfume ingredients for a beguiling blend.

Amberwood explores the pure form of an ambergris style, inspired by the trees from which the amber resin weeps from.
A versatile perfume capturing the fluidity of the era, undeniably woody to give softness and comfort from the strength of timberwood accord sparked with the joyful top notes for lightness and frivolity.

Woody perfumes have excellent longevity and depth, combined with the soft amber this perfume sits close to the skin to unravel as they day unfolds.

This striking pair explore a story written in the most decadent era of the past, from sparkling chandeliers to white tie balls and endless flowing champagne. A romantic and dynamic story of the Art Deco period is bought to life in pure perfume pleasure.